Checkin' Up on Karl Urban
My mind wandered (as it does most days).  Today it chose to see what the hunk, Karl Urban has been up too. (oh how I wish they'd move faster at another Star Trek movie!)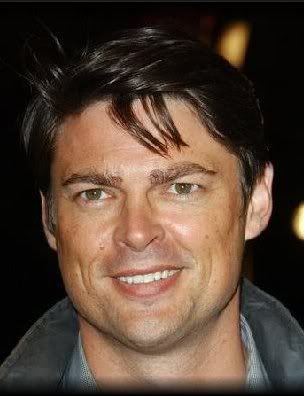 What I found is that he is a very busy actor!  One movie, filming jumped out at me on IMdb. 
The movie titled Red.  
Release date: 22 October 2010 (USA)
Plot: When his idyllic life is threatened by a high-tech assassin, former black-ops agent Frank Moses reassembles his old team in a last ditch effort to survive.
As my eyes scrolled down ...my jaw dropped open!
...just look at this cast!!!
   Bruce Willis    
Ernest Borgnine    
Morgan Freeman 
 Karl Urban   
 Mary-Louise Parker    
 Helen Mirren
 John Malkovich    
 Brian Cox     
 Richard Dreyfuss
Oh yeah! my hunk is playing with some of the "big boys"!!!! 
I am so happy for him I can't express it !!!! 
The thought of jumping up and down and doing a back flip came to mind.. but then so did "hospital visit", so I remained in my computer chair with a huge grin on my face!
You can count on the fact that I will be waiting on this movie to be released!!  I might even have to be first in line ! (that's something I haven't done since the original star trek movies!)
I find myself grinning like a Cheshire cat and doing that dance that looks like you are stirring a pot... "go Karl!  go Karl! go Karl!" oh yeah! Happy dance time!
Now.. if I could just get him to do a convention!