It's Easy to be Ignored When You are Invisible.
I feel the need for a "soap-box"........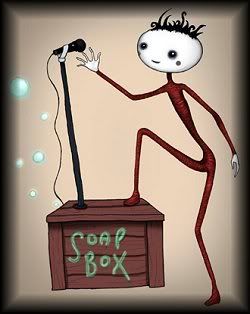 It seems that the government and everyone else believes that those that need help always get it.  That is an inaccurate assumption.
There are many charities for the poor.  Also for Children. (all good stuff!)  But in a state that has mostly elderly people (Florida) it's amazing that Section 8, which would be a major help to many, is closed tighter than a clams ass! (and I am told it will remain closed for a number of years yet.)
Would it surprise you that elderly woman are the ones most hurt as they age?  Would is surprise you that elderly woman who were "stay at home mothers and wives" suffer the most?  (especially if they find their self alone at an advanced age, meaning that of old enough to get social security.) But of course no one told you that would happen and in fact encouraged woman to "stay at home and be a mother and wife".
It used to be that children were the ones ignored but now, in my opinion: the elderly have become the Invisible people.
As one of those of the age that this encompasses , of course I see it.  I just never expected the elderly to be punished for trying to be there for their children and husband.  Yes, I chose to give them 100% of me rather than to pursue a career.  You see, I grew up without a father and with a mother who had to work many hard laborious hours to pay the bill and feed us.  I was one of those "latch key kids".  Yes, I grew up without drug problems or jail problems...but I so envied my girlfriends who went home to a mother who baked for them and was there if they needed their parent for whatever reason.  So I chose to be a stay at home mother and wife. 
It wound up not the right choice. 
Never did anyone teach me differently.  In fact, this was "the best thing to do. To be home for your family".  It was encouraged!
So for this I get to be punished by getting a really low Social Security.  600. a month..want to try to live on that without help?... I didn't think so.  Add to it the things that could help make life more worth while, more like you actually want to live and not crawl in a hole, give up and die... close their doors.
Yet billions of dollars go out to aid other countries...   please, do not think that I think they don't deserve our help.. that would be a very wrong assumption.  I am just trying to understand how everyone else can be helped and yet not help the very people at your own doorstep.
It is impossible for today's children to have their parents or parent come to live with them.  Both must work in order to keep a roof over their heads these days.. and having an extra person live with you makes your bills even higher. Sometimes I wonder how it was managed before but not any more.  Ah well...  But I do feel that  it's not right to take away any chance of help..especially major help for the elderly in the form of Section 8 where the rent would be very low and might actually be able then to afford other necessities.  It's not like the elderly jump up and down with glee saying: oh boy! Now I can get section 8!  ... it's not something one looks forward too...but when so many elderly need it there's no other alternatives...and now not even that alternative!  Florida needs to wake up to the needs of the elderly even if the rest of the government would like to ignore them...
It is not a good thing to be invisible.  It's awful to feel you've been tossed aside because you are old and needy.  To feel "hurry up and die and get it over with". 
This is not the only instance where the elderly are so badly mistreated but it's a big one noticed in a state made up of so many of the elderly.
Ok.. I will get off of the soap box now..doesn't do any good to talk about it anyway..but it is better then standing nude in the middle of a store screaming..heh