Beam Me Up, Scotty
Beam Me Up, Scotty by James Doohan with Peter David
Paperback: 224 pages
Publisher: Pocket; Reprint edition (December 1, 1996)
ISBN-10: 0671520563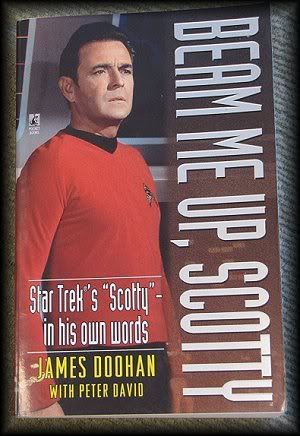 (photo in the book)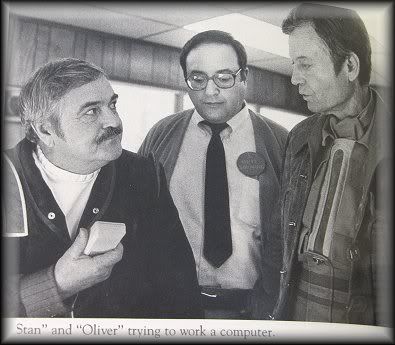 More than 10 years older than the other Star Trek actors who have given us their memoirs, Doohan remembers things they can't, such as radio as the primary entertainment medium and World War II from a participant's perspective. The war remains very bright in his memory, and his war experiences constitute a big, engrossing part of this book. A Canadian army lieutenant, he took part in D-Day, caught some machine-gun fire, and lost a finger. He also lost his intended bride to a doctor back home, so he immediately became an air surveillance pilot. He survived the war, anyway, and coming home after six years in the service, studied acting at New York's Neighborhood Playhouse (Richard Boone, Lee Marvin, and close friend Leslie Nielsen were classmates), finally faced down the father whose drinking and violence had marred his childhood, and married his first wife in 1949. The marriage lasted 17 years, not happily; meanwhile, he moved to TV and Hollywood. It is page 127 before Star Trek memories commence. Those who think that isn't soon enough should get in a 12-step group for Trekkoholics. Sure, there are good things in Doohan's ST recollections (e.g., he allows that an outstanding performance by Bill Shatner as Captain Kirk was "pretty okay" --ouch!), but what precedes it is arguably better. Broad-minded Trekkers should chow down.
I first met Jimmy Doohan at a convention here in Florida many (MANY) years ago. I don't know how it happened by I was actually introduced to him. It would be 3 years after when he returned to Florida for another convention.  I was sitting in the front row snapping some pictures when he looked at me and said, "Good to see you again Pat."  I nearly fell off of the chair!  How the heck did he remember my name after all those years and gosh knows how many other people he had been introduced to during that time?!!!  But somehow he did remember, and I was to see him a number of times over the years including once on the set of one of the Star Trek movies.
I think I am a little disappointed in this book.  Although it did account for his early years and his years in the Canadian Service, and of course it talked about Star Trek... I still felt much was missing, but I can't say just what it was.
This is a very short book of only 224 pages , and I'm still glad I finally got around to reading it.  It's certainly not a bad book, I just think there was more to Jimmy.  I do think if you should choose to read this book one day that you will have a little more knowledge about Star Trek's beloved Engineer...
"Captain, the engines canna take it ennymore.."
Sure they can Scotty... you're a Miracle Worker!