RIP Wrap-up
3,997 pg's!!!!  That's what I read for RIP!!  My best reading all year long!!! (as you can see I've only read 41 books so far this year.. pathetic to say the least, but this was a good group for RIP!)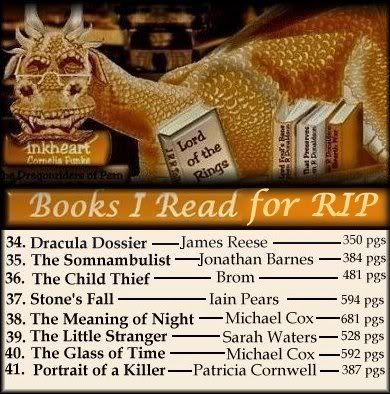 I can honestly say that I didn't read a "bad" book for RIP!  Some were a bit better than others but all were enjoyable.  If I had to say the least favorite (but still not bad) it would be The Somnambulist, and my favorite would be a combination of the two Michael Cox books, The Meaning of Night and The Glass of Time.
I can still remember when I first found Carl and Stainless Steel Rat. He was in the middle of his Once Upon a Time Challenge and I just followed and read review after review and produced my first Wish List, which I continually add to...(hmmm..and I'm thanking him for this?)..
It's because of Carl that I have a HUGE tbr pile! (I must be out of my mind thanking him!) And have come to love RIP and Gothic Mysteries and even have read some classic Charles Dickens and Wilke Collins!!
Oh my, at this moment I have visions of the movie Misery .. me playing the Kathy Bates part of Annie and Carl Playing James Caan's part of Paul.  In specific the part where she Hobbles Paul!!  Sheesh that sounds very Halloweenie doesn't it!  Maybe I should just send Carl the Bill for all the books that I've read since I found him!!!  Yeah!! That's the ticket!!!
*giggle*.. thank you Carl for being the book-aholic that you are and sharing yourself with us... it's been a great ride so far and I suspect it will remain so!