Fablehaven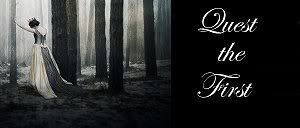 Book 5 for Quest the First: Once Upon a Time
Fablehaven: Keys to the Demon Prison by Brandon Mull
Hardcover: 588 pages
Publisher: Shadow Mountain (March 23, 2010)
ISBN-10: 1606412388
Product Description
Since ancient times, the great demon prison Zzyzx has protected the world from the most dangerous servants of darkness, including Gorgrog, the Demon King. After centuries of plotting, the Sphinx is on the verge of recovering the five artifacts necessary to open the legendary prison. Facing the potential of a world-ending calamity, all friends of light must unite in a final effort to thwart the Sphinx s designs and find a safe home for the five artifacts. To this end, Kendra, Seth, and the Knights of the Dawn will venture far beyond the walls of Fablehaven to strange and exotic magical preserves across the globe, where the end of every quest becomes the beginning of another. In this explosive series finale, allegiances will be confirmed and secrets revealed as the forces of light and darkness collide in a desperate struggle to control the keys to the demon prison.
Well.. I do have to agree with the Amazon review!  Whew ! This was a "never a dull moment" final book to Fablehaven.  I can safely say that Brandon Mull saved the best adventure with Kendra and Seth for last !
I was a little slow at the very beginning, but that was just me trying to remember where we left off .. having made new friends with a runt of a dragon. I'm sure you will be glad to hear that he returns in this book.
This story moved along quickly, but not fast enough for Seth not to find a way to get into big trouble.  Once the damage was done it was up to everyone to try to save the "eternals" or at least one of them so that the demons would not be freed and the world would not come to an end ! (gosh, I should have known they'd save the world since I am still here!)
It was a good collaboration of old and new characters. Grandma and Grandpa were not in this book very much but other familiar characters were.  
I especially liked the new character of Bracken who has more than one secret , but is a true friend and so much more.  I don't want to give away the secrets as it's part of the excellent read of the book.
If you have been reading the other Fablehaven books I can tell you that the last book will not disappoint! 
The sad part was at the very end of the book where Brandon Mull states that this is ,truly , the last book about Fablehaven.  And so we say goodbye to Kendra and Seth and to the many Fablehaven adventures they have had.
Thank you Mr Mull.. it was a very enjoyable series of books!
This means I have completed : The Journey and Quest the First.  (considering my huge slump this isn't bad at all)