Neverwas
A few days ago I caught the last 30 minutes of this movie.. "Neverwas", ever hear of it?  Well I hadn't!
Get a load of this cast:   Aaron Eckhart,  Ian McKellen,  Brittany Murphy,  Nick Nolte, T.L Pierson,  Jessica Lange,  and William Hurt.. so how come I haven't heard of this movie???!!
Probably because it didn't get very good ratings... but just because Ian was in the movie I watched what little of the movie there was left and then ordered the dvd!  Yeah, I know.. dumb dumb dumb..but I do love Ian!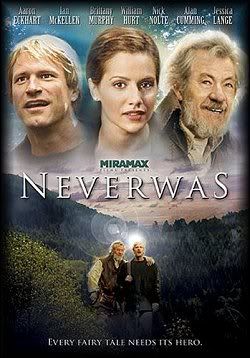 IMDb plot:
Zach Riley (Aaron Eckhart) is a psychiatrist, who leaves a job at a prestigious university, to take up a job at the privately run mental institution, 'Millwood', belonging to Dr. Reed (William Hurt). What he doesnt reveal at the time of his appointment is that this was the very place where his novelist father, T.L. Pierson (Nick Nolte), spent many years of his life, and later wrote a popular childrens classic, Neverwas.
Once there, he meets a schizophrenic patient, Gabriel Finch (Ian McKellen), and soon finds that more things linking him to the story, and to the book than he ever thought, and also to the recovery of the patient, who believes himself to be a character from the tale
 I have to tell you.. even though I didn't see a lot of this movie, and even though it didn't get good ratings and even though it's a movie without a lot of "special effects", I did see one thing... Ian McKellen creating magic!  I swear this man can do no wrong when it comes to acting!.. I like him well before  he became Gandalf and he just keeps getting better with age!
So,... I will now wait until I can watch Ian once again..but he's worth the wait!