Almost Astronauts
Becky reviewed this book and I knew at once I had to read it.
Almost Astronauts by Tanya Lee Stone.
Paperback: 144 pages
Publisher: Candlewick (February 24, 2009)
ISBN-10: 0763645028
"Space gals. Astronettes. Astrodolls . . . Who do these women think they are?" The media mocked them. Male astronauts did not want them, and neither did then vice-president Lyndon Johnson. If they were to let women into the space program, blacks and other minorities would be next. Nearly 20 years before the U.S. officially admitted women into the astronaut program, 13 women, known as the Mercury 13, fought for the right to soar into space. This dramatic, large-size photo-essay covers their stories, along with the exciting politics of the women's liberation struggle in the 1950s and '60s ("What is a woman's place?") and the breakthrough science and technology surrounding space exploration, including details of the would-be astronauts' tests and training. The chatty, immediate style ("Picture this") and full-page photos make for a fast read, and the crucial civil-rights history will stay with readers. The long, spacious back matter is part of the story, with detailed chapter notes and a bibliography.
Of course, before you even begin to read this you know the final outcome, that indeed there are female astronauts and even female captains of shuttle flights.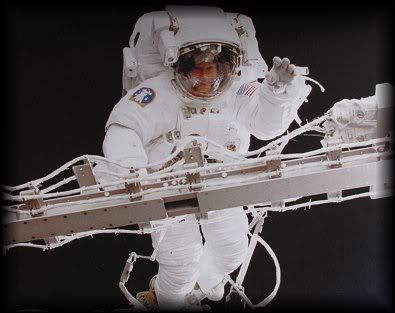 (above: Susan Helms March 2001)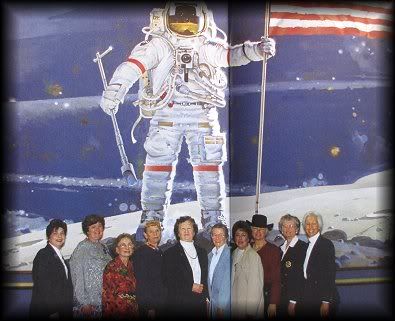 As I read Becky's review I remembered some of the struggle for woman to be able to go into space.  ...and wouldn't you know that the reason I remembered some of it is because Nichelle Nichols (Uhura: Star Trek) was in the mix of things going around encouraging females and females of all colors to enlist to be an Astronaut if this was a longing they had to do.
I wondered as I read this book if that would be mentioned and although it was only one line... it WAS mentioned!
I very much enjoyed reading about the hardships they went through back in the early days of the space race. I did not know that when President Johnson took over the office that he was so against woman in space because then he would have to allow "other minorities".   That alone surprised me so much I began to wonder why Kennedy picked him for a running mate!
Much of the book pointed out how all the "men" seemed to have the same look upon woman... the old "barefoot and pregnant, stay at home cook the meals" view.   Unfortunately many of us were brainwashed into that view and actually bought it and did it... we are now the ones having so much trouble with little to no money to survive on social security because we were led to believe it was a good thing to stay at home and take care of the family. *big sigh*
I admire these woman for not giving up and making a difference so that "eventually" woman did get into space.  Now, I am not a get on the soap box person with all the equal rights stuff (not saying I don't believe it.. I am just not a big speaker on it)... but I have always believed that if the person can do the job and do it well then they deserve the job no matter male or female, white, yellow or black or what religion... as long as they can do the job and do it well, be it going into space or being a garbage man (person) they deserve the job dang it!
Anyway... thank you Becky for bringing this little book to my attention! I am very glad I read it!!!