The Magic Thief: Found
The Magic Thief: Found by Sarah Prineas
Hardcover: 368 pages
Publisher: HarperCollins (May 25, 2010)
ISBN-10: 0061375934
Product Description
Never turn your back on a dragon!
Sneaking out of prison isn't easy, unless you are a thief, or a wizard. Luckily, Conn is both! Trouble is, once he's out, where does he go? His home is a pile of rubble since he blew it up doing magic. His master, the wizard Nevery, is not happy with him. Worst of all, Conn's been exiled, and staying in the city will mean his death.
But Wellmet is in danger from an evil predator coming to destroy the city, and Conn must set off on a quest to fight it. Suddenly, a huge shadow looms over him and he is swept away by something more awesome than his wildest imaginings. Is Conn brave enough to answer magic's call, or is he really just a thief at heart?
Sarah Prineas's incredible world explodes with adventure—a place where cities run on living magic and heroes come from the most surprising places.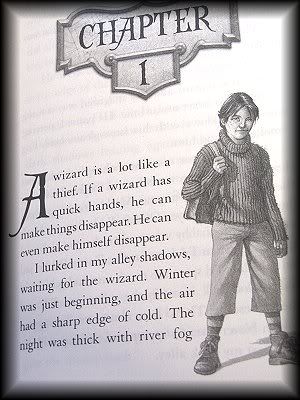 (Artwork at the beginning of each chapter by: Antonio Javier Caparo.)
This is the 3rd book in the series The Magic Thief.  The first two are:      The Magic Thief and The Magic Thief Lost.  It's a small book by standards, being only 7.5 X 6 and, as seen in the photo's, double spaced.  So lets just say: it's a fast read!
I enjoyed this book.  The other two also. It's very likeable story taking a common thief-street urchin and turning him into a magician.  It's not as easy as you'd think, at least not according to Nevery who is the wizard teaching him!
In this, the third book Conn is trying to do two things: find his locus stone in order to be a true magician, and at the same time save the place he lived from *bad magic* that was about to overtake the town.
I have to admit I thought it a great touch that a dragon managed to get into this book!  (we all know my affection for dragons ..especially friendly ones!)  This was a fast read, which is something I haven't been able to say in a long time, and I'm sure it had to do with the low word count on each page, but still...it was a no brainer to enjoy.  It would be a good beach book or travel book for sure.
I think the series ended with this book, although I feel a door was left open for another so I guess I get to wait and see....
This book is yet another *extra* book read for Once Upon a Time!