The Necromancer
The Necromancer (The Secrets of the Immortal Nicholas Flamel)
by Michael Scott
Hardcover: 416 pages
Publisher: Delacorte Books for Young Readers (May 25, 2010)
ISBN-10: 0385735316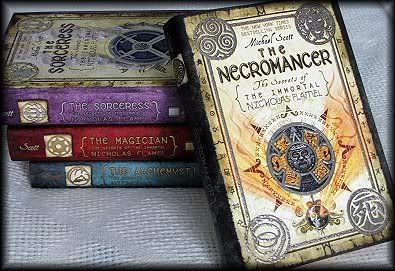 (photo of MY books)
Product Description
The fourth book in the New York Times bestselling series The Secrets of the Nicholas Flamel--The Necromancer
San Francisco:
After fleeing to Ojai, then Paris, and escaping to London, Josh and Sophie Newman are finally home. And after everything they've seen and learned in the past week, they're both more confused than ever about their future. Neither of them has mastered the magics they'll need to protect themselves from the Dark Elders, they've lost Scatty, and they're still being pursued by Dr. John Dee. Most disturbing of all, however, is that now they must ask themselves, can they trust Nicholas Flamel? Can they trust anyone?
Alcatraz:
Dr. Dee underestimated Perenelle Flamel's power. Alcatraz could not hold her, Nereus was no match for her, and she was able to align herself with the most unlikely of allies. But she wasn't the only one being held on the island. Behind the prison's bars and protective sigils were a menagerie of monsters-an army for Dee to use in the final battle. And now Machiavelli has come to Alcatraz to loose those monsters on San Francisco.
Perenelle might be powerful, but each day she weakens, and even with Nicholas back at her side, a battle of this size could be too much for her. Nicholas and Perenelle must fight to protect the city, but the effort will probably kill them both.
London:
Having been unable to regain the two final pages of the Codex, Dee has failed his Elder and is now an outlaw-and the new prey of all the creatures formerly sent to hunt down Flamel.
But Dee has a plan. With the Codex and the creatures on Alcatraz, he can control the world. All he needs is the help of the Archons. But for his plan to work, he must raise the Mother of the Gods from the dead. For that, he'll have to train a necromancer. And the twins of legend will make the perfect pupils. . . .
I never really write a proper "review".. it would take someone better than I to do book reviews justice.... But I do like to post about them, especially (ESPECAILLY) when I really enjoy the book!
I will admit that I picked up Michael Scott's first book (The Alchemyst) only because Nicholas Flamel's name was in the title and I remembered it from Harry Potter.  But once I opened this  book I got sucked right into it!
I took to his characters of Josh and Sophie right away..and his mixture of fictional characters, mythical characters, and real characters (Nicholas Flamel.. Dr John Dee) meshed wonderfully!  Michael, most assuredly, did his homework!
Add to this that he spreads his story over different states and even different countries and has the ability to make you feel as if you are there with them.. well..what can I say but he's an excellent author.
This latest book moves at the speed of light!  Geez!!  There's not a slow up anywhere to be found!  I stated some time ago that each book just keeps getting better and this one is no exception!  I don't even want to think about waiting another year for the next book!  AARRRGGGHHH!!!!!!...... I may have to go to Ireland and smack Michael Scott upside his head for leaving me hanging like this!!!!
But truth be known I have totally enjoyed every single book of this series he has written, and as much as I can't wait for the next one to come out, I will dread when it is over. 
The books are written for Young Adults, and I am as far from a YA as one gets, and yet this series of books is one of the better YA series I've read. They are Keepers for sure!
Thanks Michael!  You did great!.. (again!..)  now, just how long do I have to wait for the next installment????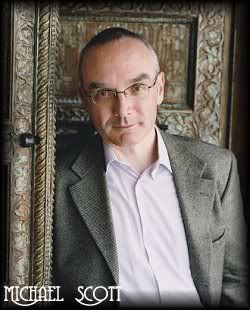 My old reviews of the other books: