The Mysterious Benedict Society
The Mysterious Benedict Society by  Trenton   Lee Stewart.
Paperback: 512 pages
Publisher: Little, Brown Books for Young Readers (April 1, 2008)
ISBN-10: 0316003956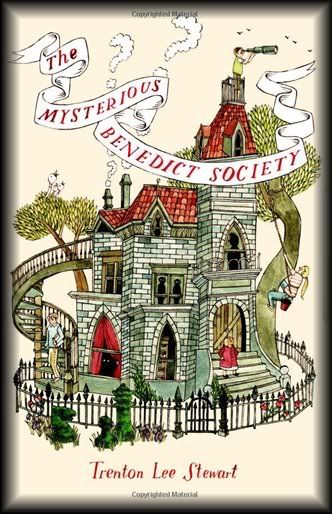 From School Library Journal
Starred Review. Grade 5–9—After Reynie Muldoon responds to an advertisement recruiting "gifted children looking for special opportunities," he finds himself in a world of mystery and adventure. The 11-year-old orphan is one of four children to complete a series of challenging and creative tasks, and he, Kate, Constance, and Sticky become the Mysterious Benedict Society. After being trained by Mr. Benedict and his assistants, the four travel to an isolated school where children are being trained by a criminal mastermind to participate in his schemes to take over the world. The young investigators need to use their special talents and abilities in order to discover Mr. Curtain's secrets, and their only chance to defeat him is through working together. Readers will challenge their own abilities as they work with the Society members to solve clues and put together the pieces of Mr. Curtain's plan. In spite of a variety of coincidences, Stewart's unusual characters, threatening villains, and dramatic plot twists will grab and hold readers' attention. Fans of Roald Dahl or Blue Balliett will find a familiar blend of kid power, clues, and adventure in Society, though its length may daunt reluctant or less-secure readers. Underlying themes about the power of media messages and the value of education add to this book's appeal, and a happy ending with hints of more adventures to come make this first-time author one to remember.—
By the skin of my teeth I finished this book on the last day of January!!! I have been in a reading slump, but it wasn't because of the book I was reading!
This is a very enjoyable book and excellent writing I might add!  The author does not write  down to YA readers. (nor is it too difficult) I'd give A+ for the great writing.
The group of four children, Reynie, Kate , Constance and Sticky made a great team and the book isn't without it's surprises at the very end.  No one is without their drawbacks, be it being an Orphan, a runaway or laughter making Mr Benedict fall asleep!  Quite Original, or I just haven't read anything like it !  There are already 2 more books out following this one but for now they will have to wait. 
Book one could be read as a stand alone book should one decide not to read on.  I have not heard any reviews of book 2 or 3 but if they are as good as book one I doubt you would be disappointed.
An excellent YA book!
I will do the January Wrap (big joke) tomorrow.