Magician's Ward
Magic & Malice  by Patricia C Wrede
Hardcover: 420 pages
Publisher: SFBC Fantasy; SF Book Club edition (1998)
ISBN-10: 156865684X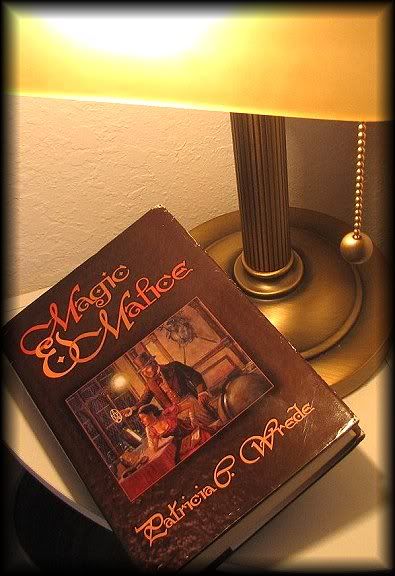 This book is a combination of two books that Ms Wrede has written: Mairelon the Magician and Magician's Ward.  I will post them as two individual posts.
The Magician's Ward by Patricia C Wrede (paperback)
Mass Market Paperback: 288 pages
Publisher: Tor Books; (October 1998)
ISBN-10: 0812520858
From Kirkus Reviews
No, not a hospital drama about ailing wizards, but another yarn set in a fantasy Regency England featuring Richard Merrill, a.k.a. Mairelon the Magician, and his ward Kim, the former street thief. While Kim resists Richard's Aunt Agatha's determined attempts to introduce her to Polite Society (i.e., find her a husband), a gentleman burglar attempts to steal a book from the house library. Somehow connected to this, so Kim learns from an old thief colleague, are the efforts of a wicked moneylender to gather up street urchins who have magic talents, coupled with a mysterious, debilitating magical attack on Mairelon himself.
I don't know if it's the writing.. the stories .. or what it is that makes me find Patricia C Wrede's books so enjoyable!
Maybe I am British at heart?!  I know I am half English and half Irish.. I dunno maybe that's it!
The second book in Magic and Malice was very enjoyable!  Though I felt a little sorry for Kim through much of the book as Mairelon's mother came to live with them and immediately took over dressing and introducing Kim into society to find her a husband ! 
Now this may have been very typical in old England but the twist (isn't there always a twist?) was of course that they would except her even though she was a one time thief because she was being "introduced" as a magician which held much esteem.  It helped that it turned into a bit of a mystery to be solved .  Of course this turned into many events before anything close to a conclusion was found.
The occasional British cant (speech) threw me a bit of a curve but it didn't really slow me down and by the end of the book I was actually understanding it! LOL (my slow down was crocheting! *sigh*)
I loved her other books about Sorcery and Cecilia and I enjoyed these two books! I guess one might say I've become a fan of Patricia Wrede's writing!  If you've read her other series this read will not disappoint!  I am surprised that she never used Mairelon and Kim in other mysteries! 
Oh, and one last thing about a minor character.. Aunt Agatha . When you first meet here she is a tad annoying trying to rule Kim's life.. then she sort of falls away into the background when Mairelon's mother arrives.. but then near the very end she makes another appearance and  you really like her!  
I really saw potential for these characters to go on to more adventures and I'm sorry they didn't.