The Land of the Silver Apples
The Land of the Silver Apples : Book II of Nancy Farmer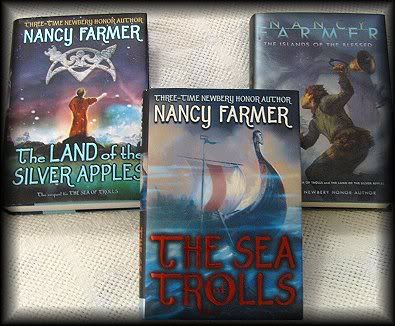 Hardcover: 496 pages
Publisher: Atheneum Books for Young Readers(August 21, 2007)
ISBN-10: 141690735
*Starred Review* Safely returned from his perilous stint among Northmen, 12-year-old Jack reflects, "That's the nature of adventures. . . . They're nasty while they're happening and only fun later." For readers, though, there's satisfaction in both the nasty and the fun, and this sequel to The Sea of Trolls (2004) offers full measures of both. After Jack learns that his often-bratty little sis is a changeling (and that his real sister likely dwells with hobgoblins), a misguided exorcism results in Lucy's disappearance. Then the young bard must descend into the out-of-time Land of the Silver Apples to retrieve both of his lost siblings. In that richly imagined realm, surprises include a reunion with shield-maiden Thorgil as well as creatures whose appearances deceive—shape-shifting knuckers; hideous yet likable hobgoblins; and lovely, soulless elves, whose inability to grow or age tinges their existence with tragedy.
I have to admit that the review from Booklist says it all without spoiling too much of the book.
Nancy Farmer has certainly done a lot of homework before writing these book!  Not only about Vikings but about Pictish Symbols, Din Guardi (now called Bamburgh Castle) and about old and new religions.  With all this information at hand she has written a well rounded adventure with some very likeable and some not so likeable characters.  I've now enjoyed two of the three books and totally expect to enjoy the last one, which I will begin reading today.
There are lessons to be learned in this YA adventure also.  One that stood out to me was the old saying, you can't judge a book by it's cover (sometimes true enough..but other times...) or what you see is not necessarily what you get or even don't be too fast to judge a person on their looks.
There are some old and some new characters in this book.  I liked seeing Thorgil again and hearing Olaf mentioned, but I did enjoy  the new characters also, and I was happy to even "enjoy" the Hobgoblins!
I already know I will pass this series of books along to my 13 yr old grandson!  I guess that means I'm enjoying them!