The Gargoyle
The Gargoyle by Andrew Davidson
Hardcover: 480 pages
Publisher: Doubleday (August 5, 2008)
ISBN-10: 0385524943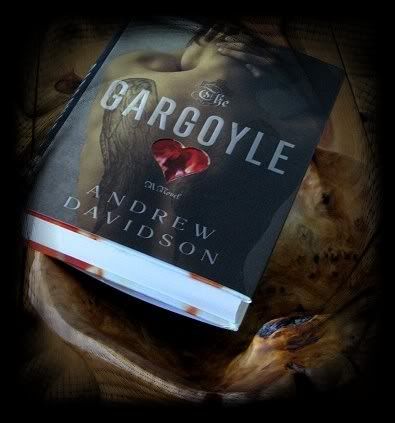 From Publishers Weekly
Starred Review. At the start of Davidson's powerful debut, the unnamed narrator, a coke-addled pornographer, drives his car off a mountain road in a part of the country that's never specified. During his painful recovery from horrific burns suffered in the crash, the narrator plots to end his life after his release from the hospital. When a schizophrenic fellow patient, Marianne Engel, begins to visit him and describe her memories of their love affair in medieval Germany, the narrator is at first skeptical, but grows less so. Eventually, he abandons his elaborate suicide plan and envisions a life with Engel, a sculptress specializing in gargoyles. Davidson, in addition to making his flawed protagonist fully sympathetic, blends convincing historical detail with deeply felt emotion in both Engel's recollections of her past life with the narrator and her moving accounts of tragic love. Once launched into this intense tale of unconventional romance, few readers will want to put it down.
Well now.. yes, indeed I finished yet another gothic story!
The Gargoyle is was quite different from any I've read and I have to say, it held my interest. This is a great surprise to me because much of it talks about "old religion" and I'm not fond of books that put a lot of religion in them . (kinda feel that's a private thing)..anyway... this one had it but still maintained my interest constantly picking up the book to read more and more.  I guess that means it was a good read!
I don't want to say much about it.  The Amazon review does a good job of telling about the book.  I will say that both the lead characters,  were beautifully written.  If someone told me I'd like a coke head guy and a schizophrenic gargoyle carving female I'd have laughed pretty hard at them!.. somehow Davidson managed to make them both likeable!  That alone is worth the read!
The Gargoyle would have bode well for RIP and it was there among my choices..as usually I was not quite fast enough, but that's ok.. cause I still am reading more gothic "stuff"!
And so, I bid farewell to The Gargoyle ..and hello to Fingersmith.