The Cowboy & His Elephant
The Cowboy and His Elephant by Malcolm MacPherson
Paperback: 256 pages
Publisher: St. Martin's Griffin (September 3, 2002)
ISBN-10: 0312304064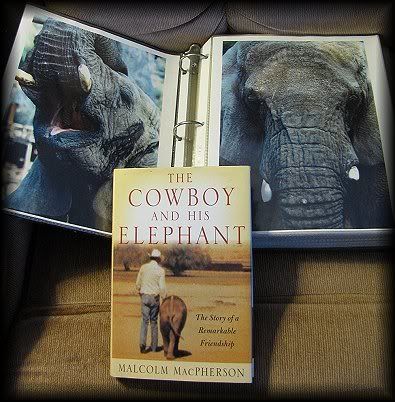 Product Description
he Cowboy and His Elephant is the touching account of the incredible kindness and love shown by a real-life American cowboy toward an orphaned African elephant baby named Amy. The cowboy watched Amy grow and enjoy life until she was able to leave his ranch for the circus. Amy may have left the cowboys life, but she never left his heart. This is a story of mutual friendship, of genuine love and compassion, but, foremost, this is a story with roots that run deep in the values and traditions of the American West.
I think I needed a break from the huge books I have been reading and just read something small and different from all the gothic mysteries.
While at the used books store I picked up The Cowboy and his Elephant.  It's a true story.   Of course it's about a cowboy.. how as a young man all he wanted to do was to be a cowboy and her pursued it until he found his dream.
Then a stranger comes along and wants to rent some stalls for, of all things, 5 baby elephants.  He says they will be sold quickly but just needs a place for now and so the cowboy rents out the stalls...and the animal lover in him falls for the runt of the baby elephants, and when she isn't sold right away makes an offer to buy her.
It's his and Amy's (the elephant) stories. 
Any animal lover will find something in this book to enjoy.
Any person who is pursuing a dream of a career will come to appreciate the cowboy.  It's a win, win book.
When you want a little something to make you feel good.. this may well be the little book you should pick up.  I know it was for me.