A Christmas Carol
A Christmas Carol by Charles Dickens
Hardcover: 160 pages
Publisher: Candlewick (September 12, 2006)
ISBN-10: 0763631205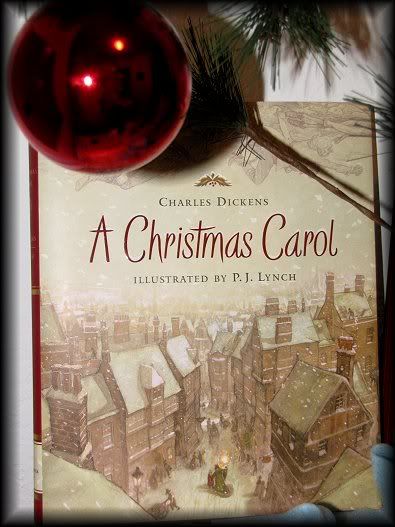 Product Description
The story of Ebenezer Scrooge opens on a Christmas Eve as cold as Scrooge's own heart. That night, he receives three ghostly visitors: the terrifying spirits of Christmas Past, Present, and Yet to Come. Each takes him on a heart-stopping journey, yielding glimpses of Tiny Tim and Bob Cratchit, the horrifying spectres of Want and Ignorance, even Scrooge's painfully hopeful younger self. Will Scrooge's heart be opened? Can he reverse the miserable future he is forced to see? Now in an unabridged edition gloriously illustrated by the award-winning P.J. Lynch, this story's message of love and goodwill, mercy and self-redemption resonates as keenly as ever.
As I always do when I begin a book I take off the paper cover to preserve the artwork.  This particular book is illustrated by P.J. Lynch, who did a really beautiful job!
Under that beautiful cover I found this on the hard cover..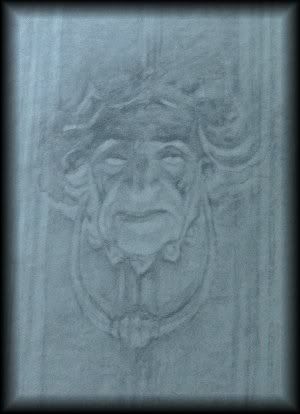 Old Marley looking up at me!
Inside, along with Dickens Christmas Carol are wonderful illustrations by P.J. Lynch.
This book is so filled with drawings that you feel as if you are watching the movie and reading the book at the same time!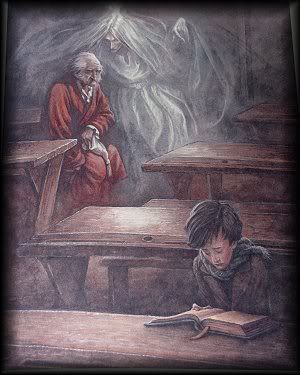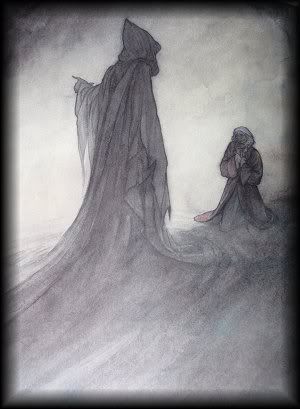 Even knowing the story (and the ending) .. this was still great to read instead of just seeing the movie.
But before the Holidays are over I do hope to see at least one of the movie!
Maybe it will be: A Christmas Carol 1938  Reginald Owen as Scrooge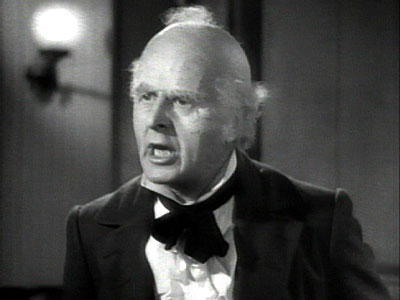 Or: another I remember a lot was one put out in 1951 where Alastair Sim played Scrooge.
and of course... Patrick Stewart as Scrooge..
How many times can one read the book or see the movie?  Every year that you celebrate the holiday!
This copy of A Christmas Carol is superb!  A keeper that I hope to open over and over again... and so should you!