Book 5 of Septimus Heap
Syren by Angie Sage
Hardcover: 640 pages
Publisher: Katherine Tegen Books (September 29, 2009)
ISBN-10: 0060882107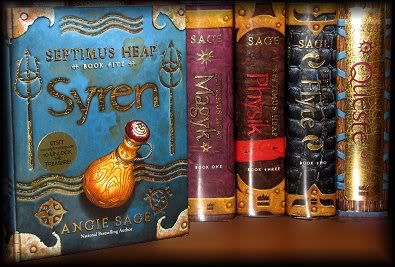 Product Description
In this fifth book in the Magykal series, Septimus ends up on a captivatingly beautiful island, one of seven set in a sparkling sea. He's stranded there with his badly injured dragon, Spit Fyre, along with Jenna and Beetle. There are some strange things about the island, including a Magykal girl named Syrah, a cat-shaped lighthouse that has lost its Light, and an eerie presence that sings to Septimus—can he escape the persistent call?
Trouble is also brewing for Lucy and Wolf Boy, who have become entangled with some nefarious sailors at sea, and for Milo Banda, Jenna's father, who is harboring a mysterious treasure chest in his ship's hold.
Charismatic storyteller Angie Sage continues Septimus Heap's Magykal journey with more laugh-out-loud adventures, more enchanting charms and spells, and an ever-deepening understanding of the interior life of a young hero.
Angie Sage has done it again with another (continuing) adventure for Septimus and his friends!
This is the 5th book about the young Septimus (Apprentice Wizard) and his family and friends.  By now they seem like old friends and although they always seem to get out of any trouble they find it's always a fun read and always enjoyable to have old friends around once again.
I've enjoyed this group of books so much that I have kept them all for myself.  Yes, they are YA books but then there have been a number of YA books that I've decided to keep and the Septimus Heap books are among my honored possessions.
As in all series it really has to begin at the beginning, to meet and learn about the characters.  Once they have captured your heart you have no trouble reading on and on.  Angie Sage has done a great job writing this series and making some memorable characters.  I don't know if there will be more Septimus Heap books but the door is wide open to continue them for some time to come... and I hope this isn't the end and that we see more of Septimus in the future.