Fire
Fire by Kristin Cashore
Hardcover: 480 pages
Publisher: Dial; First Edition edition (October 5, 2009)
ISBN-10: 0803734611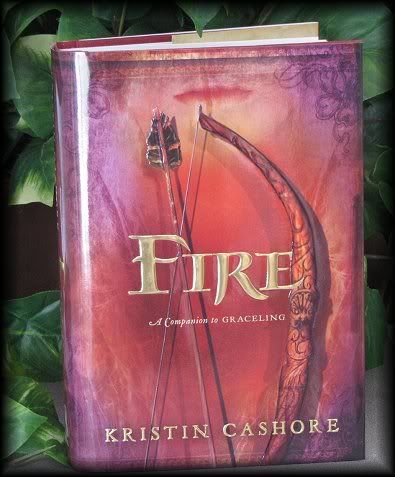 From School Library Journal
Starred Review. Grade 9 Up—This fantasy, shot through with romance and suspense, is set in the same world as Graceling (Dial, 2008), but on the far side of the mountain barrier in the kingdom of the Dells. Here there are monsters, enhanced and exceptionally beautiful versions of various animal species. Fire is a human monster, so beautiful that she has to hide her hair for fear of attack by both raptor monsters and human men. She is able to enter other people's minds and exert power over them. It is a tumultuous time in the kingdom, as various lords are preparing to overthrow the king, and Fire is drawn into the fray. With a larger cast and a more complex canvas than Graceling, the story begins slowly and takes its time establishing itself. Fire's path is not immediately clear, and although full of action, her quest is largely internal. While the plotting is well done, there are a few quibbles about Cashore's world-building and about the role of a major character from Graceling, Leck. But, this is Fire's story, and readers will fall in love with her as she struggles with her pivotal role in the war effort as well as her complex relationships with her oldest friend and lover, Archer; with Prince Brigan, whose mind is closed to her and who becomes central to her life; and with her monster father's fearsome legacy. More adult in tone than Graceling,
I find the Library Journal review a spot on telling of the book.  
Cashore writes of very strong women but she does give credits to those who help teach her what she needs to know.  Then of course there is always "life's lessons" along the way.
It was very interesting to read her mental struggles as she determines when and where and how she uses her powers. 
As a "monster", one of Fire's hardships is the fact that any human man that looks at her falls in love with her.  Even as a young person, I , personally, never had such a problem, but ... there are always "beautiful" people that you know or see and wonder what it would be like to be so beautiful.  In this book you find it's quite a problem!
Humans can learn to block their minds to the human monsters with this power and so it is with Brigan, a man sent with a partial army to bring Fire to a castle to help interrogate prisoners.  Brigan would become her love interest but she fights the feelings because she is a monster.
Fire's hair and monster animals are all brightly colored in this world Cashore has given us.  They all sound "beautiful" and it's their beauty that makes their prey stand still and stare until they are captured . 
Are you finding any of this interesting?  Well, I did.  And although it took me much longer than usual to read I never once thought to set it aside.
This was a very good book that not only has a good story to tell, but sets of the lands in which Cashore's stories are told.  Although I don't know her intentions, if she will return to the Graceling or not, what she has done is to set up a world where, if she chose to, she could have many individual (stand alone) stories of different characters ..or.. have more about the characters she has already introduced us to.
All in all I enjoyed this book quite a bit. And I do think that if you liked Graceling you will enjoy this story too.. though the story is quite different, it does embrace problems, and adventure, a strong woman, and romance... it seems to be a very good combination!