The Enchantment Emporium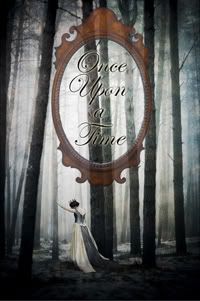 The Enchantment Emporium by Tanya Huff
Hardcover: 368 pages
Publisher: DAW Hardcover; 1 edition (June 2, 2009)
ISBN-10: 0756405556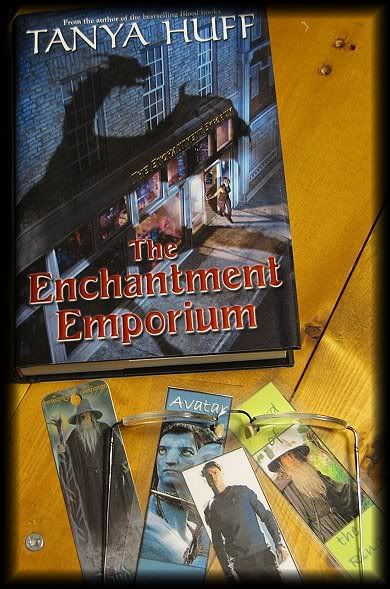 From Publishers Weekly
Thoughtful and leisurely, this fresh urban fantasy from Canadian author Huff (Valor's Trial) features an ensemble cast of nuanced characters in Calgary, Alberta. Headstrong young museum research assistant Allie Gale takes over her missing grandmother's titular junk-shop, which is supposedly crucial to the local community. When Allie arrives to find a leprechaun, a monkey's paw and a magic mirror, she realizes her grandmother didn't mean the human community. After spotting low-flying dragons and other UnderRealm creatures in the neighborhood, Allie calls on the help of her powerful family of modern, benevolent Toronto witches, who attempt to visit via a spacetime-spanning Wood until something shadowy begins pushing them out in inconvenient locales like Haiti. Fantasy buffs will find plenty of humor, thrills and original mythology to chew on, along with refreshingly three-dimensional women in an original, fully realized world.
Gads ... If I were an author I wouldn't give me your book to read right now.  I have no idea what my problem is but lately the books I pick up take me forever to read and now, twice in a row, there were times in a book when I wasn't sure what the heck was going on!
This story starts our throwing me for a loop.  (please remember I am horrible ate remembering names of people/characters)  So right away they toss out so many names (main characters and sub characters *all the aunties*) that I am lost, lost, lost.
So when the story really begins, which is when Allie takes over her grandmothers junk-shop, and introduces more characters... well.. I really felt like I didn't know who or even "what" the characters were or where this was going.
Eventually I caught on to the story (which was very good and I felt very original) and my reading picked up a little, but not a whole lot but that's just because my reading has come to a crawl.
So.. to me the bad side was too many characters to remember (and me a character driven person!..so it has to deal with poor memory on my part) and the fact that, either I missed something important, or they never really said what these people were.  I don't want to extend on that in case I missed it in the beginning.
The last third of the book I enjoyed quite a bit so those of you with better memory than mine (and that would be most of you!) would more then likely enjoy the whole book rather then half of the book.  I am sure If I reread the book now, I would enjoy much more of it... but that's for another time.
It would not be like me not to include an small excerpt from the book and for those of you who know me you will immediately see why I chose this one. 
"As Mr Spock said, in what as undeniably the best of the movies..."
"Kay has a Ricardo Mantalban fixation," on the the older aunties interrupted.
"Lovely man," Auntie Kay agreed.  "Amazing pecs.  May his should be at peace." She frowned. "Where was I?"
Graham want to kiss the corner of Allie's mouth where it curled up, fighting a smile.
"The needs of the  many..." Auntie Muriel sighed, waving a knitting needle.
"..outweigh the needs of the one. Of course.  Had you killed the boy, we wouldn't have needed to come to Calgary to save the world."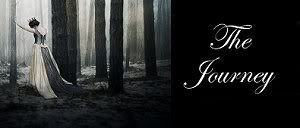 This completes "The Journey"...
Now on to Quest the First...