The Canary Trainer
The Canary Trainer by Nicholas Meyer
Paperback: 224 pages
Publisher: W.W. Norton & Co.; 2nd THUS edition (March 17, 1995)
ISBN-10: 0393312410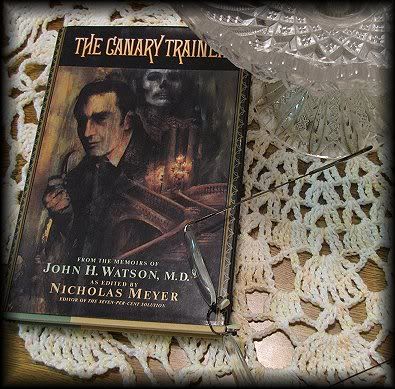 From Kirkus Reviews
Fresh (or stale) from his encounters with Freud (The Seven-Per- Cent Solution, 1974) and Jack the Ripper (The West End Horror, 1976), Sherlock Holmes comes up against the Phantom of the Opera, with mixed results. Disguised as a Norwegian violinist who replaces a performer at the Paris Opera who's been frightened off by the Phantom, Holmes is blackmailed by the woman, Irene Adler, into contracting to protect soprano Christine Daa' (who's so innocent that she believes the mysterious singing master who calls himself ``Nobody'' is the Angel of Music) from her ghostly patron. At first the Phantom seems intent on terrorizing everyone but La Daa': her replacement as Faust's Marguerite, the oblivious incoming directors, even the new woman who tends the Grand Tier left boxes. No sooner has Holmes guessed at the Phantom's identity, though, than he spirits La Daa' off to the cavernous Opera basement for the requisite--and anticlimactic--finale. Should appeal to those fans (and there will be plenty) who can overlook the undistinguished stylistic pastiche--Holmes rather unwisely narrates this lost adventure himself--the footnotes that explain every last Holmesian reference, and the unfortunate poverty of the plot.
This book began a tad slow for me.  Watson asks Holmes to tell him some things that happened to him when he was "presumed dead". 
Having a chance to begin life over Holmes goes to Paris and manages to get a job playing violin in the opera orchestra under an assumed name.
The book picks up it's pace as it goes along and of course eventually turns into one where you just keep reading until you know all the answers!
There are shades of Dickens underworld here in Paris and at times almost forgot this took place in Paris not England! 
It was a tad different from most Holmes stories in that it was only Sherlock on the adventure, as he told his close friend Watson, a few times, he wished he was their to help him.
It was very enjoyable.  I think I liked this one better than the West End Horror.  I can see why people asked Meyer to continue writing about Sherlock.. I think he had an excellent ability to do so.
If you like reading Sherlock Holmes I do believe you would like this book.  Now, I wouldn't mind running across an old copy of Seven Percent Solution by Nicholas Meyer!