The Prince of Mist
The Prince of Mist by Carlos Ruiz Zafon
Hardcover: 224 pages
Publisher: Little, Brown Books for Young Readers(May 4, 2010)
ISBN-10: 0316044776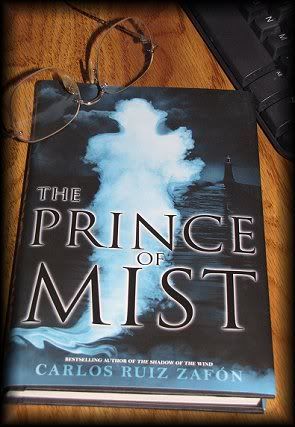 Amazon.com Review
It's war time, and the Carver family decides to leave the capital where they live and move to a small coastal village where they've recently bought a home. But from the minute they cross the threshold, strange things begin to happen. In that mysterious house still lurks the spirit of Jacob, the previous owners' son, who died by drowning.
With the help of their new friend Roland, Max and Alicia Carver begin to explore the strange circumstances of that death and discover the existence of a mysterious being called the Prince of Mist--a diabolical character who has returned from the shadows to collect on a debt from the past. Soon the three friends find themselves caught up in an adventure of sunken ships and an enchanted stone garden--an adventure that will change their lives forever.
This is the 3rd book by Carlos Ruiz Zafon that I have read, but the first young adult book by him I've read.
Zafron's other books are Shadow of the Wind and The Angels Game, both adult mysteries and excellent, excellent books.
I have to admit when I first purchased this book I wasn't aware it was a young adult book, nor did I know this was a much earlier book of his that has just been re-released.
One thing I did find out by reading this smaller book was that I could see how he progressed into the other books he has written.  He is truly and excellent story teller/ author.
In this book the young protagonist is named Max.  Max and his sisters move when their dad decides to move out of the city because the war was too close.  They move to a beach house, and from that time on nothing will ever be the same for Max or his sister Alicia. There's just something about the house they moved into that makes Max decide to try to know more about it.
The book is an enjoyable mystery read.  I think it is quite original in it's story and although it could have been read in one loooong sitting it took me a few days .
I've pretty much come to the conclusion that I will read more of Mr Zafon's books as they are released.